National Forum on Wellness in Post-Secondary Education 2019
October 17, 2019 | 9:00 am

-

October 18, 2019 | 5:00 pm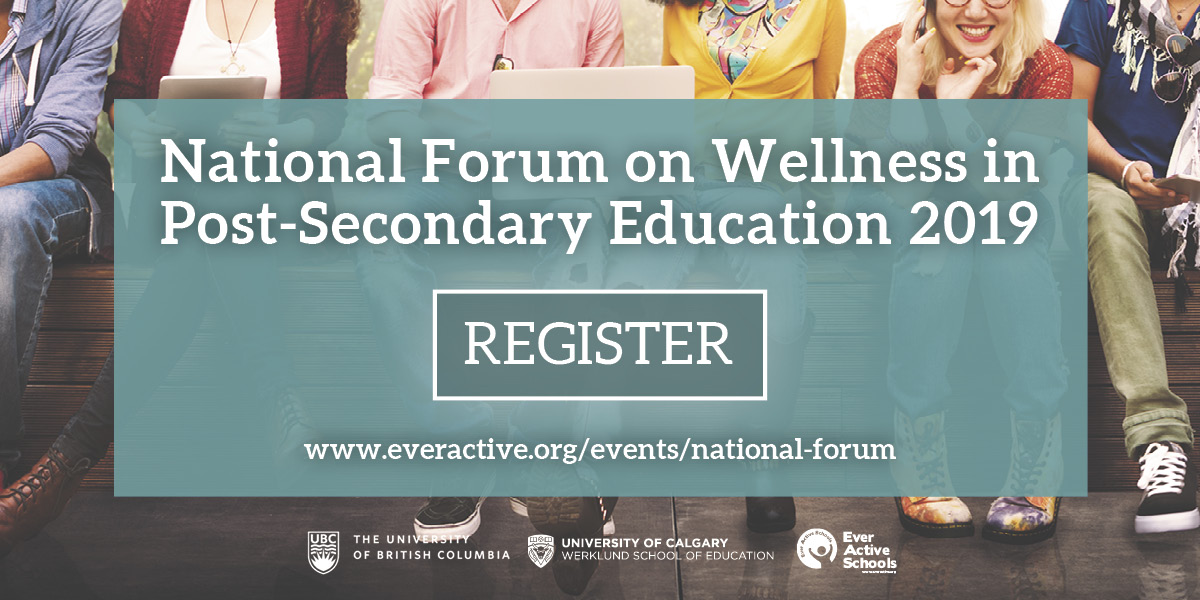 National Forum on Wellness in Post-Secondary Education 2019
Thursday, October 17, 9:00 a.m. – 5:00 p.m., plus evening networking event
Friday, October 18, 2019, 8:30 a.m. – 4:30 p.m.
Ponderosa Commons Ballroom, UBC
6445 University Blvd
Faculties of Education, associated community partners, Bachelor of Education students, in-service educators, allied faculties and campus wellness groups:
Ever Active Schools, the Werklund School of Education, the University of Calgary and the University of British Columbia invite you to join with faculties of education from across the country to explore wellness in post-secondary education.
This two-day forum will build on conversations from last year's forum in Edmonton, AB bringing together post-secondary institutions, experts in Comprehensive School Health (CSH) from organizations and government, and Bachelor of Education students from across the country. Over these two days you will have an opportunity to share what your faculty or organization is doing to support wellness, hear what others across the country are doing, learn about opportunities for collaborative research and dive deeper into how a CSH approach can be used to further support wellness in your context.
Last year in Edmonton we worked to build a network of stakeholders involved in advancing comprehensive school health at post-secondary education faculties across Canada and identified some intended next steps of this network. This year we will build upon this work by expanding the network, deepening the understanding of adopting a CSH approach in advanced education spaces and initiating the implementation of identified next steps in both research and practice in CSH approaches within faculties of education.
Cost:
Standard Rate: $150 +GST
Student Rate: $95 +GST (must have a valid student ID)
View the Program-at-a-Glance here!
Learn more and register here
---