Upcoming Teacher Education Events
If you want to share an event here, get in touch! You will need to provide an event title, dates, start and end time, location, and a brief description.
SOGI Alliance Farewell Lunch
March 14, 2018 | 12:00 pm

-

1:00 pm
SOGI Alliance Farewell Lunch
– CANCELLED
Wednesday, March 14, 2018
12:00 p.m. – 1:00 p.m.
Scarfe 310
It's time to say farewell and wish each other good luck on the elementary & middle years practicum!
Come eat lunch, discuss SOGI resources and watch great classroom videos in an atmosphere of learning and growing together to better understand and support the gender and sexual diversity of all students.
Light refreshments will be served.
---
The Teacher Education for All! project will build capacity for faculty, staff, and students in Teacher Education at UBC to create and provide an inclusive culture, work place, and learning environment with a particular focus on intersectional approaches to thinking about sexual and gender diversity and pedagogical approaches to recognize, and intervene to transform, the impacts of systemic discrimination.
The Teacher Education for All! project is funded by the UBC-ARC Sexual Orientation and Gender Identity Fund. ARC Foundation is a private foundation established in 2009, based in Vancouver, BC. ARC supports projects that exhibit Awareness, Respect and Capacity in improving the status of those who are marginalized in society by sexual orientation, gender identity, ethnicity or financial status. Funding has also been provided by UBC's Equity and Inclusion Office.
More info: tefa.educ@ubc.ca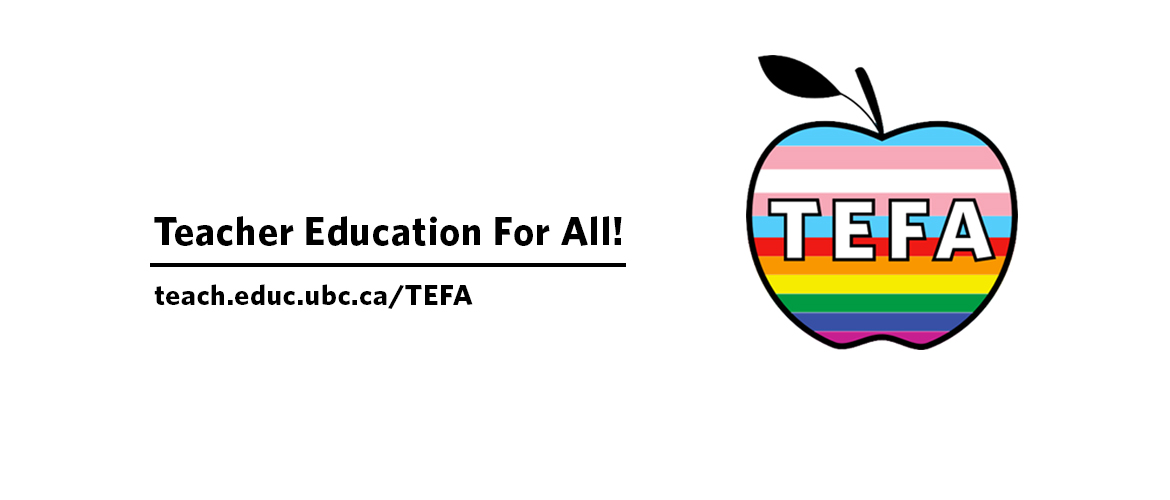 ---